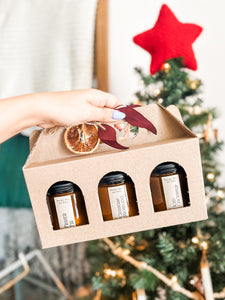 Brandy's Wax and Wicks
Christmas Three Pack Box
Regular price
$42.00
$0.00
Unit price
per
Sample the best of Christmas with a three pack of our best selling Christmas fragrances! This pack includes Cranberry Prosecco, Fraser Fir, and Iced Gingersnap all in 7oz amber glass jars. Perfect for gifting or just sampling, you can't go wrong with this one!
CRANBERRY PROSECCO scented soy candle brings joyful holiday party vibes to life. Bright and uplifting, it adds an effervescent pop of color to your holidays. Top notes of citrus and cranberry add a cheerful, tart twist to sparkling champagne middle notes. At the base, praline offers a touch of sweetness while comforting musk notes convey a cozy ambiance. Infused with natural essential oils including orange sweet, lemon, and davana.
FRASER FIR scented soy candle is one of the seasons favorites! This fragrance brings the classic Christmas tree scent to every home whether you have a real tree or artificial one, with top notes of mild citrus, earthy undercurrents, and a fir balsam core. Infused with natural essential oils, including fir balsam.
ICED GINGERSNAP scented soy candle serves fresh-from-the-oven goodness! This sweet treat's bakery heart wraps you in coziness with comforting butter, molasses, and vanilla. Peppery ginger and brown sugar top notes add a savory complexity to middle notes, while a dusting of cinnamon and clove–plus a splash of creamy milk–complete this cookie-inspired scent. Infused with natural essential oils including clove leaf, rosemary, nutmeg, orange sweet, eucalyptus, elemi, and pine.
Brandy's Wax and Wicks are hand poured in small batches with all natural soy wax, led and zinc free wicks, and phthalate free oils. We strive to be a clean eco-friendly company, that is why we make sure to use the highest quality ingredients with your family in mind.
If this is your first time purchasing from us, please go read about safe candle burning and how to get the most out of your new candles under our Candle Care and Info section of the website.
[7OZ GLASS JAR]
Height: 3.5"
Diameter: 2.86"
---